Pick-up truck rental – WITH LOADING PLATFORM
Practical and easy to manoeuvre
Up to 20m3 capacity
Our small trucks with tailboard all have a loading platform, making moving goods easy.
A normal car driving licence is sufficient to be able to drive this category of utility vehicle.
As for most small trucks, ours have three seats in the cab.
Generally, the fuel cap is located on the left-hand side of the vehicle, near the driver door. This may vary according to the model of vehicle assigned to you.
Our 16-20m3-capacity trucks are all equipped with car radios.
You can opt to rent a GPS by visiting any of our agencies or via the internet.
You are invited to consult the user guide to any vehicle you hire to ensure you get the best from your rental experience.
20m3 utility Dimensions
| Utility 20m3 tailboard * | Length | Width | Height |
| --- | --- | --- | --- |
| External dimensions | 6.80m | 2.40m | 3.40m |
| Internal dimensions | 4.30m | 2.08m | 2.30m |
*For information purposes only, non-contractual. Contact the rental agency of departure for further information
The version with a tailboard simplifies handling of your goods.
How to operate the tailboard ?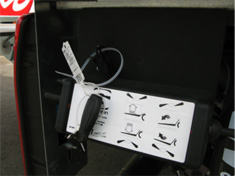 Find the open-ended spanners that were supplied with the truck keys.

The platform control panel can be found at the back of the truck, on the right-hand side.

Insert the open-ended spanner into the control panel.

Simply move the levers left or right to lower/raise the platform.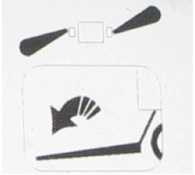 To raise the platform, keep the left lever down and the right lever up.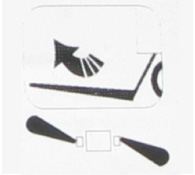 To bring the platform up, keep the left lever up and the right lever down.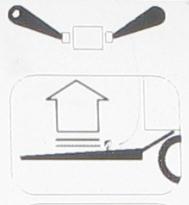 To lower the platform, keep both left and right levers down.
Do the opposite to lower the platform.
Truck hire options
Our 20m3 trucks can be hired for 1 hour, 1 day or 1 month, at fixed rates. All prices are available in our agencies and/or on the internet. Do not hesitate to contact Rent A Car for more information.
A number of optional extras and accessories are also available when you rent a commercial vehicle from Rent A Car:

- Cardboard boxes for removals
- A trolley for transporting boxes back and forth to your truck
- A dolly for moving larger items such as furniture
- Snow chains for use in wintry weather conditions

You can also specify a 'young driver' and an 'additional driver' when completing your rental application form.
What are they ideal for?
A 16-20m3 utility truck with tailboard is ideal for house moves, when you have a lot of boxes, and need to move furniture and other heavy and cumbersome items. It's easy both to load and unload items, thanks to the hydraulic loading platform.
Similarly, these vehicles with tailboards are ideal for the transportation of many other kinds of items. Using a fork-lift truck, you can load and unload your goods simply and with minimal effort.
For removals, just rent one of our utility trucks and it will be a piece of cake. To obtain an estimate, visit the "easy way" section of our web site, or contact your nearest Rent A Car agent direct.
Practical information on utility truck rental
To rent a utility truck with tailboard, you have to have held a 'B' driving licence for a minimum of 5 years.
When you rent a utility truck with tailboard for the first time, we invite you to note these points before setting off:
Remember that this type of commercial vehicle is not equipped with an internal rear-view mirror. So, take a moment to adjust the position of the external wing mirrors before starting the engine. Do not hesitate to ask for assistance from the Rent A Car agent accompanying you to your vehicle.
Prior to your return, check that the appearance of both the vehicle and the tailboard are in the same condition as they were on your departure.
It's a good idea to make a note of the mileage of the vehicle as well as the quantity of fuel in the tank, prior to starting out.
To reserve a vehicle with tailboard, use our online reservation service or make an appointment with the Rent A Car agency closest to your home.
Rent A Car would particularly like to recommend our 16-20m3 utility vehicles as well as our waste removal trucks.
Rent A Car has numerous different models of commercial vehicles and passenger cars available across our vast network.
Renting a small truck equipped with a tailboard is the ideal way to move large, cumbersome items!
For all other requirements, choose from our ranges of smaller commercial vehicles (small vans, small trucks, etc.).
To check the availability of any category of vehicle, visit www.rentacar.fr, or contact the agency closest to your home.